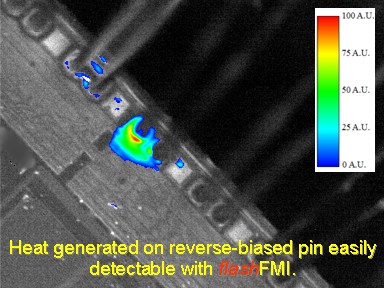 Overview
The Reltron flashFMI Thermal Hot Spot Detection system provides the fastest, most economical, high spatial resolution thermal detection system for integrated circuits.
By precisely timing the high-bit depth camera frames relative to modulation of the DUT bias and UV illumination, we can measure the thermal profile of the component at any time interval (>1mS) after the application of power, or the application of a clock, or any desired user event.
Applications
Short localization
Temperature profiling
Heat Diffusion/Spreading
Hot Spots
Power Dissipation Studies
Standard Features
1.4Mpixel maximum image resolution

Intuitive

flash

FMI Software GUI
MULTIWAVE 6-wavelength SW-controlled Illuminator
Single channel Keithley power supply and SW IV curve tracer
Optional Features
4-channel Keithley DUT power supply and software IV curve tracer
Custom Dark Box
Anti-Vibration Table
Probe Station
DUT Temperature Controller: Fast Heating and Cooling Control Chuck
High Voltage (up to 5KV) DUT Power Supply and software IV curve tracer
NEW FEATURE!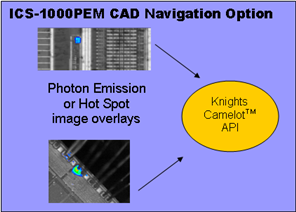 Our CAD navigation feature allows efficient identification of circuit net associated with photon emission or hot spot